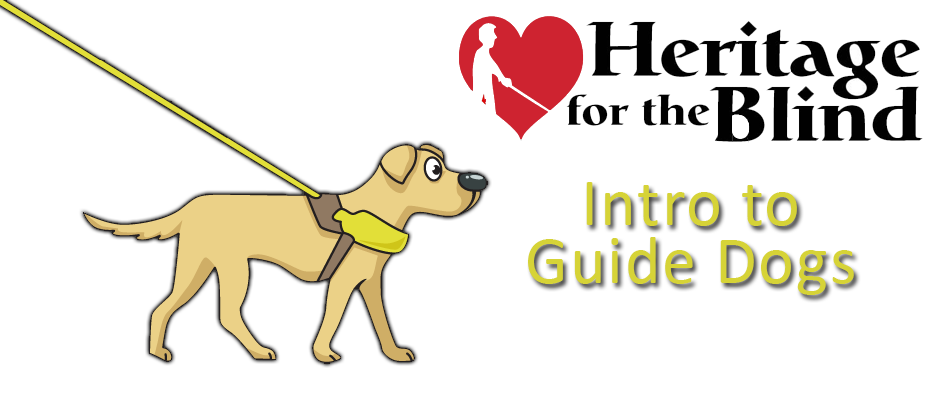 Guide dogs are known to be of great assistance to their visually impaired handlers; however, guide dogs are not for everyone. We hope to present you with the information you need to know in order to make an informed decision. If you decide to proceed with the process you can use our Guide Dog Directory of the United States to locate the appropriate facility.

Are you a dog person? There are things a guide dog does that a cane simply cannot equal. However, a cane does not need to be fed or groomed. A cane is also not associated with all the pleasantries and not so pleasant chores that go along with dog ownership. Both partners, the handler and the dog, must be committed to the relationship. A guide dog is still a dog and dogs thrive on love. Therefore you must first ask yourself – Am I a dog person?

A guide dog is trained to obey its partner but a guide dog is also trained to be an independent decision maker. A guide dog is trained to obey commands only when it is a command that will not harm or adversely affect the handler. While walking, your guide dog will stop at every intersection or curb until you command the dog to 'go'. However, if you have erred in your judgment and it is actually not safe to cross, the dog will correctly disobey your command to 'go' until it is safe. Another dynamic of the team aspect is in avoiding overhead clearances. Your guide dog can judge the distance between you and an overhead obstacle and will lead you safely, avoiding the hazard.

A guide dog is one of the most highly trained animals in the world. The training time is approximately 7,000 hours, from birth until age 1 ½, at which time the dog is ready to meet its human partner. At that point, the two will train together for between 2-4 weeks. This training is done at the dog training facility. When back home, the training is ongoing. You may need your dog to learn specific tasks to accommodate your personal lifestyle. You can train your dog to obey custom commands like 'Go to work' or 'Go to Starbucks'. The dog will take multiple steps that would otherwise need a series of commands to reach your destination. The dog will learn that 'Go to Work' means walk to the train station, get on the train, look for a seat, etc… A guide dog will quickly learn your routine.

There are approximately 10,000 guide dog partnerships in the US and Canada. During your decision making process you should speak to others who have used guide dogs. You may benefit from their experiences with situations you might have in common.

In most instances the dog training facility will provide the dog and its services at no charge.

Eye Dog Foundation for the Blind
Administration Offices
415 Foothill Blvd., Suite 126
Claremont, California 91711
1-800-EYEDog1
1-800-393-3641
1-909-626-8131
http://www.eyedogfoundation.org/index.php

Eye Dog Foundation for the Blind
Phoenix Training Facility
8252 S. 15th Ave.
Phoenix, Arizona 85041-7806
1-602-276-0051
http://www.eyedogfoundation.org/facility.php

Guide Dogs of America
13445 Glen Oaks Blvd.
Sylmar, California 91342
1-818-362-5834
1-800-459-4843
Fax: 1-818-362-6820
E-mail: mail@guidedogsofamerica.org
Web site: http://www.guidedogsofamerica.org
Eye Dog Foundation For the Blind, Inc.
211 S. Montclair St., Suite A
Bakersfield, California 93309-3165
1-661-831-1333
1-800-393-3641
Fax: 1-661-831-0681
E-mail: eyedog@arrival.net
Web site: http://www.eyedogfoundation.org/
Guide Dogs for the Blind, Inc.
Post Office Box 151200
San Rafael, California 94915-1200
1-800-295-4050
E-mail: information@guidedogs.com
Web site: http://www.guidedogs.com/
Guide Dogs of the Desert
Post Office Box 1692
Palm Springs, California 92263-1692
1-888-883-0022
1-760-329-6257
Fax: 1-760-329-2866
E-mail: info@gddca.org
Web site: http://guidedogsofthedesert.org/
The Fidelco Guide Dog Foundation, Inc.
103 Vision Way
Bloomfield, Connecticut 06002
1-860-243-5200
E-mail: info@fidelco.org
Web site: http://www.fidelco.org/
Southeastern Guide Dogs, Inc.
4210 77th Street East
Palmetto, Florida 34221-9270
1-800-944-3647
1-941-729-5665
Fax: 1-941-729-6646
E-mail: segd@bhit.infi.net
Web site: http://www.guidedogs.org/
Southeastern Guide Dogs, Inc. – Georgia
1535 Lake Paradise Road
Villa Rica, Georgia 30180
1-770-459-2051
Fax: 1-770-459-5124
Web site: http://www.guidedogs.org/

Eye of the Pacific Guide Dogs and Mobility Services, Inc.
747 Amana Street, Suite 407
Honolulu, Hawaii 96814
1-808-941-1088
Fax: 1-808-944-9368
E-mail: info@eyeofthepacific.org
Web site: http://www.eyeofthepacific.org/
Kansas Specialty Dog Service, Inc.
120 West 7th Street
Washington, Kansas 66968-2222
1- 785-325-2256
Fax: 1-785-325-2258
E-mail: ksds@ksds.org
Web site: http://www.ksds.org/
Leader Dogs for the Blind
1039 Rochester Road
Rochester Hills, Michigan 48307-3115
1-248-651-9011
Fax: 1-248-651-5812
E-mail: leaderdog@leaderdog.org
Web site: http://www.leaderdog.org/
Guide Dog Users, Inc.
C/O GDUI Secretary, Sarah Calhoun
3603 Morgan Way
Imperial, MO 63052
1-866-799-8436
Web site: http://www.gdui.org/

The Seeing Eye, Inc.
Post Office Box 375
Morristown, New Jersey 07963-0375
1-973-539-4425
Fax: (973) 539-0922
E-mail: semaster@seeingeye.org
Web site: http://www.seeingeye.org/
Freedom Guide Dogs for the Blind
1210 Hardscrabble Road
Cassville, New York 13318-1304
1-315-822-5132
E-mail: info@freedomdogs.org
Web site: http://www.freedomguidedogs.org/

Guide Dog Foundation for the Blind, Inc.
371 East Jericho Turnpike
Smithtown, New York 11787-2906
1-866-282-8047
Fax: 1-631-930-9009
E-mail: info@guidedog.org
Web site: http://www.guidedog.org/
Guiding Eyes for the Blind, Inc.
611 Granite Springs Road
Yorktown Heights, New York 10598-3411
1-914-245-4024
Fax:1-914-245-1609
Web site: http://www.guiding-eyes.org/
Southeastern Guide Dogs, Inc. – North Carolina
11 Union Street South, Suite 210
Concord, North Carolina 28026
1-704-721-5000
Fax: 704-262-9225
http://www.guidedogs.org/
Pilot Dogs, Inc.
625 West Town Street
Columbus, Ohio 43215-4444
1-614-221-6367
Web site: www.pilotdogs.org
Guide Dogs for the Blind, Inc.
32901 Southeast Kelso Road
Boring, Oregon 97009-9058
1-503-668-2100
E-mail: information@guidedogs.com
Web site: http://www.guidedogs.com/
Guide Dogs of Texas
11825 West Avenue, Suite 104
San Antonio, Texas 78216-2557
1-210-366-4081
Web site: http://guidedogsoftexas.org/

| | |
| --- | --- |
| | |
Heritage for the Blind © 2017
Donor Privacy Policy